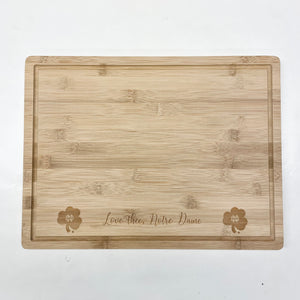 This premium cutting board is made from bamboo and measures 15.75" x 11.75" x .75".
Our Love Thee Notre Dame Cutting Board is engraved with the Notre Dame Monogram Shamrock. It is crafted from high-quality bamboo and has both a grooved and a flat side. Coloration of each Love Thee Notre Dame Cutting Board may vary due to the manufacturing process.
You can add personalization to this Love Thee Notre Dame Cutting Board. We will engrave your selection across the top of the board! Please enter the exact text you would like engraved.
Bamboo is
renewable,
bacterial resistant,
self-healing and easy on knives,
durable,
and retains less water than other cutting board material.
Only food-safe, formaldehyde-free glue is used in assembly. No dyes or stains are used, the color is permanent and will not fade or wash out. Wash your Love Thee Notre Dame cutting board with warm water and occasionally use food-grade mineral oil to help extend its life and beauty!